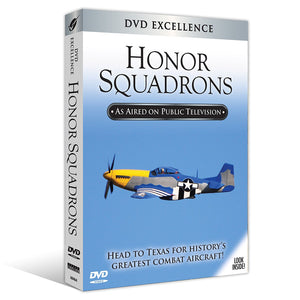 Topics Entertainment
Honor Squadron of Texas (1 DVD)
NEW, Made in USA, GREAT GIFT, LAST EVER PRODUCED, VERY LIMITED SUPPLY!
Of the 500,000 planes that flew during World War II less than 6,000 remain, and only a handful are still flying. But the Confederate Air Force, made up of about 8,000 international members, is dedicated to keeping the spirit of these icons alive. Just how much time, money and energy does it take from this all-volunteer crew to keep these iconic airplanes flying? And why do they do it?
In Honor Squadrons, previously viewed on public television, you will hear from World War II veterans, including George H.W. Bush and Lloyd Bentsen, as well as Luftwaffe test pilot Werner Seitz and Imperial Japanese Navy air cadet Ryu Hatano. Experience the restoration process of the B-17 Texas Raiders, the B-24 All American, P-51 Mustang, P-38 Lightning and the Japanese Zero.
Honor Squadrons was created locally by Houston PBS Productions.
Product Features
Previously viewed on public television
Hear from actual World War II veterans
Interviews with former president George H.W. Bush and Lloyd Bentsen
Visit the Confederate Air Force (now Commemorative Air Force) in Texas
Footage of vintage bombers in action during WWII and today
Meet the first woman to fly a B-26 bomber without an instructor
See the B-17 Texas Raiders, the B-24 All American, the P-51 Mustang, the P-38 Lightning, the Japanese Zero and more
International customers, if you don't have access to a US shipping address, be advised you will need to pay duties and taxes for your country.
---
More from this collection